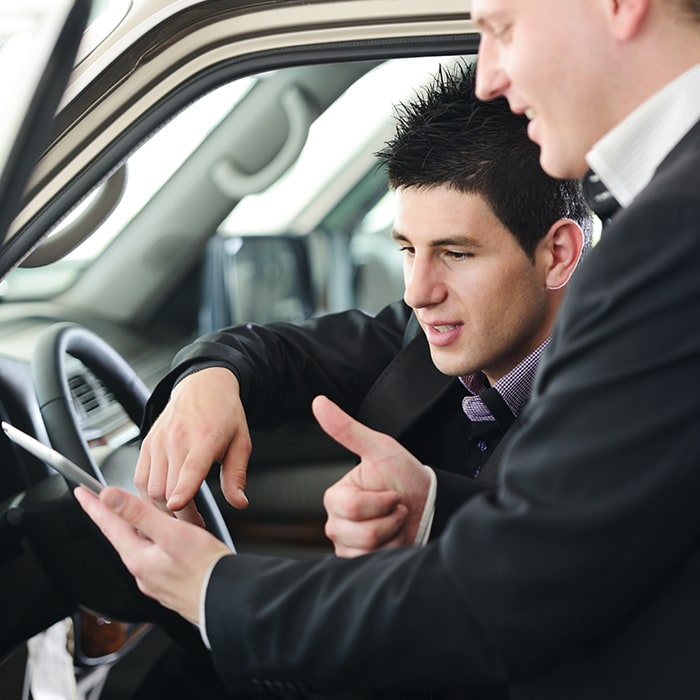 Finance your New Nissan Model Confidently with the Help of Razzari Nissan
Are you ready to secure financing for a new Nissan model that you just can't wait to open up and take off in? Here at Razzari Nissan, we keep the process of purchasing or leasing a car from our dealership as transparent and straightforward as possible. Working with an outside network of lenders, answering your questions and helping with the sometimes tough buy versus lease decision, we can get you out on the road in a dream vehicle without the common frustrations that you may be accustomed to dealing with in the past.
---
Network of Outside Lenders and Budget-Fitting Financing Experts
Our outside network of lenders who we share strong connections with allows us to offer you an abundance of different financing options to consider for your next new Nissan model here at our dealership. Different lease plans and auto loan options can be considered fully with the help of our team, and we are even here to help you fit your specific budgets, requirements and preferences to a plan that works and that you can feel confident about.
---
Online Financing Application for a Quick Start to the Process
Get the ball rolling quickly when it comes to your new Mazda financing here at our dealership through our online financing application that takes just a matter of minutes to fill out. This saves you from filling out paperwork live in our showroom and allows our financing experts to handle most of the work on our end. Sound convenient? The entire financing process here at Razzari Nissan is meant to have that type of positive effect.
---
We Can Help with the Buy Versus Lease Decision
There is a lot to consider when it comes to choosing between whether to buy or lease. Purchasing means outright ownership, freedom from mileage limitations and the flexibility to customize as you see fit. Lease plans tend to be less expensive for down payments and monthly payments, with the ability to trade in every few years for an upgrade in our new Mazda lineup. As you can see, there is plenty to consider, and our financing experts are happy to sit down and walk through it all with you step by step.
Please reach out to our team today to get started on new Nissan financing at our dealership and to make arrangements for a consultation in the near future!
---
Hours
Monday

8:30am - 7:00pm

Tuesday

8:30am - 7:00pm

Wednesday

8:30am - 7:00pm

Thursday

8:30am - 7:00pm

Friday

8:30am - 7:00pm

Saturday

9:00am - 7:00pm

Sunday

10:00am - 7:00pm